Wednesday 1st July 2020 – Day Ninety Nine
Good morning everyone, so tomorrow marks 100 days of Lockdown! Seriously cannot believe that we have passed that milestone. And today is the 1st of July!
My thanks to Barbara S: who shared this information with me at the weekend: "Do you know how we got 'July'? July was named after Julius Caesar in 44 B.C. Previously, July was called "Quintilis," which is Latin for "fifth." – Thank you Barbara!
Thank you to everyone who shared with me what they learnt / did or just got better at during the last three months. From reading 50 books, to writing poetry, to picking up a paintbrush for the first and improving their table tennis! What an inspiration everyone is!
I would love to hear from you.
---
What can I share with you today?
---
FOOD / SHOPPING
Thank you to everyone who has forwarded their wonderful support and comments to me regarding the Food Bank Project organised by Covent Garden Community Centre / 7 Dials Club. It is really gratifying to hear that so many people are benefiting from the service:
Foodbank – We are flexible with regards to who we can help. If you fit the following criteria, please register.
Self Isolation due to symptoms
Isolation due to vulnerable or shielded status
Income reduction because of lockdown & crisis measures
Income reduction while waiting for benefits to arrive
Homeless
---
Just a reminder. If you (or know of anyone) who cannot go out because they are vulnerable, self isolating or for any other reason and need help with food etc.
Assistance can be found on the government web page. The form is rather long, but is fairly straightforward. If you (or know of anyone who needs support) please let us know.
---
ART & CULTURE
From Chris B:
London Gay Symphonic Winds presents: We Are Family – Pride 2020.
LGSW presents: We Are Family! Normally we would be marching through London, but this year we've gone virtual to bring our family to yours!
---
From Ann T:
Age UK Camden lunchtime concerts. This week we introduce Filippo Ferazzoli.
Filippo is an Italian Guitarist based in London. In 2008 he attended the "Rock Blues" Diploma at Saint Louis Music College in Rome. Then, in 2012, he graduated in BA Jazz at Conservatory "S.Cecilia" in Rome studying with Fabio Zeppetella, Cristiano Mastroianni, Danilo Rea and Roberto Gatto.
Concert premiers Thursday 2nd July 12:30
---
HEALTH
From Sharon S:
Camden Carers Centre. Are you living in Camden or looking after someone in Camden?
Mobilise are working in partnership with Camden Council and Camden Carers Centre to reach even more carers, particularly those that are new to caring or who have not connected with local services before.
They have some wonderful information and articles to share, including: 3 quick tips to lift your mood.
---
From Declan:
Central YMCA. Zumba Gold Dance Session for Older Adults.
"This really fun exercise indoor in the hot day. Thank you so much Decland and YMCA."
---
From Rita:
Among the many members who shared what they did / learnt during lockdown, one inspirational email was from Rita.
Rita has been busy making face masks for family, friends, neighbours and is now helping AGE UK Camden with their appeal. Rita has been busy beavering every day on her sewing machine. This is just a sample of the work that she has produced over the last few weeks.
---
From Sarah (Buckingham Palace, Queens Gallery).

ZOOM WORKSHOP
Tomorrow from 2pm. Dawn Purkiss will be leading us in a fascinating study of paintings held within the Royal Collection.
Together we will be looking at two paintings each week examining, for example: style, colour, mood, composition, symbolism, mythology, fashion, and medium.
Dawn will help us de-mystify a painting teaching us how to 'read' an art work. She will also encourage us to consider extending our studies to objects found at home via art, drama or photography etc.
Please email John for the Zoom Link before 12pm tomorrow.
---
From Sarah (Buckingham Palace, Queens Gallery). Tomorrow from 2pm.
ZOOM WORKSHOP
Exploring Leonardo
Experienced London Warden, Dan Hudson, will once again lead another Community Zoom session for us, this time exploring Leonardo Da Vinci following the highly successful exhibition recently staged at The Queen's Gallery, London.
Please email John for the zoom link before 12pm tomorrow
---
INFORMATION
From Dave T:
Latest Government Updates.
The detail behind the headlines. The following have been recently changed for people in England. Changes to guidance for people who are shielding.
From 4th July. Two metre rule to be eased to one metre plus. 2 households able to meet indoors and stay over night (but no hugging yet)
From 6th July Pubs, restaurants, hotels and hairdressers can open.
For more information: https://www.gov.uk/coronavirus
---
From Cindy H:
Westminster Council. Shops in your area.
The Council have created a new interactive map for residents and others to quickly and easily find out what shops are open for business in your local area. The map shows the location of shops and businesses in your neighbourhood that are either physically open, or offering online services. It also shows the kinds of service they offer, opening hours, and how you can get in touch with them. They will continually update and expand the list of businesses open in the Westminster area.
---
LIGHTER SIDE OF LIFE
From Mark L – Smiles for the day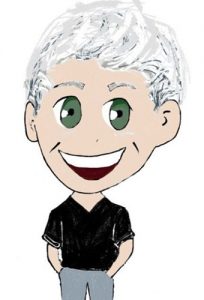 ? HERE are a few own one-liners:
"Velcro. What a rip-off."
"I've got a sponge door. Hey, don't knock it."
"One-armed butlers. They can take it but they can't dish it out."
There was a boating lake and people hired boats with numbers on them. The man in charge called through his megaphone: "Come in number 91, your time is up!" The man next to him said: "We haven't got a 91."
The first man got back on the megaphone and called out: "Number 16! Are you in trouble?"
Oldies but Goldies
Bob Monkhouse: "I still enjoy sex at 68. I live at No 66 so it's no distance."
Alexei Sayle: "I've given up asking rhetorical questions. What's the point?"
Les Dawson: "I used to work for British Rail — I was a meat pie reviver."
* My thanks to Celia who drew the above Chibi character of me.
---
That's all for now!
You can contact me on 07759 646507 in case of an emergency
Be safe
John