Thursday 2nd July 2020 – Day One Hundred
Good morning everyone, I would like to start today's daily update with a couple of requests for help and support.
Please could you read the articles below and let me know, as soon as possible, if you would like to take part.
LETTER OF HOPES (St Joseph's Primary School)
From Michelle Zini-Lopes:
The children of St Joseph's Primary School are launching a heartwarming project; wanting to write to older people and letting them know that they have not been forgotten during this crisis. I hope you agree that this is a lovely idea and for it to work, I am looking for 15 – 20 members to take part.
Please let me know if you would like to hear from a child and if you do,
Please confirm how you want the letter:
Posted to you from the child (this would mean sharing your address)
From the child but posted by me (the school will forward the letters to me)
By email, the school will scan the letter and I will forward to you
Look forward to hearing from you!
Please email John if you would like to be involved
---
TALKING HEADS
From Dragon Hall:
We are wanting to interview some of our members on camera – talking heads type – on the pandemic isolation, lockdown and opening up.
I appreciate that this is a difficult topic to discuss, but a very important one that needs to be shared. We are also looking for members who have used our Food Bank service, and are willing to share how useful this service has been.
Your support would be appreciated, so if you want to get involved, please get in touch. All interviews will take place at Phoenix Garden and be mindful of the social distancing rules.

---
What can I share with you today?
---
FOOD / SHOPPING
Thank you to everyone who has forwarded their wonderful support and comments to me regarding the Food Bank Project organised by Covent Garden Community Centre / 7 Dials Club. It is really gratifying to hear that so many people are benefiting from the service:
Foodbank – We are flexible with regards to who we can help. If you fit the following criteria, please register.
Self Isolation due to symptoms
Isolation due to vulnerable or shielded status
Income reduction because of lockdown & crisis measures
Income reduction while waiting for benefits to arrive
Homeless
---
Just a reminder. If you (or know of anyone) who cannot go out because they are vulnerable, self isolating or for any other reason and need help with food etc.
Assistance can be found on the government web page. The form is rather long, but is fairly straightforward. If you (or know of anyone who needs support) please let us know.
---
ART & CULTURE
From Theresa K:
Royal Albert Hall. Guy Chambers: exclusive session.
Guy Chambers, one of the UK's most successful living songwriters, delivers an exclusive session of some of his best-loved hits from his London home as part of the Royal Albert Home season. His collaboration with Robbie Williams has produced seminal hits such as Angels, Let Me Entertain You, Strong, No Regrets, Millennium, Rock DJ and Feel. He has also worked with Texas, Katie Melua and Beverly Knight amongst others.
Premieres today at 7:30pm
---
From Mary S: National Theatre.
Official Les Blancs by Lorraine Hansberry
Free National Theatre at Home Full Performance. An African country teeters on the edge of civil war. A society prepares to drive out its colonial present and claim an independent future. Tshembe, returned home from England for his father's funeral, finds himself in the eye of the storm.
Premieres today at 7:30pm
---
POETRY CORNER
From Janet Am: The Wife's Tale by Seamus Heaney.
This is one of my favourite Seamus Heaney poems.
It's from his 1969 collection, Door into the Dark. The man in the poem is basically giving the role of the corn goddess, Demeter, to the woman, though she doesn't know it. It's a measure of how much he loves her.
Listen to the beautiful narration by Janet
---
INFORMATION
From Sarah (Buckingham Palace, Queens Gallery).

ZOOM WORKSHOP
Today from 2pm. Dawn Purkiss will be leading us in a fascinating study of paintings held within the Royal Collection.
Today at 2pm. Dawn Purkiss will be leading us in a fascinating study of paintings held within the Royal Collection Trust. Join her for-'A light hearted look at the painting 'St James's Park and the Mall' and what it tells about Georgian social life.'
Please email John for the Zoom Link before 1.30pm today.
---
From Dave T:
Latest Government Updates.
The detail behind the headlines. The following have been recently changed for people in England. Changes to guidance for people who are shielding.
From 4th July. Two metre rule to be eased to one metre plus. 2 households able to meet indoors and stay over night (but no hugging yet)
From 6th July Pubs, restaurants, hotels and hairdressers can open.
For more information: https://www.gov.uk/coronavirus

---
GARDENING SPOT

From Leah (Phoenix Garden)
Click on the link below to download and read the 1st issue of the Phoenix Garden Newsletter.
Which includes the – The Great Tomato Race! – 'In the Spotlight'- our favourite PG-dwelling plant this month – Gardening tips for the month of July – Wildlife at The Phoenix Garden
---
LIGHTER SIDE OF LIFE
From Sally P – Smiles for the day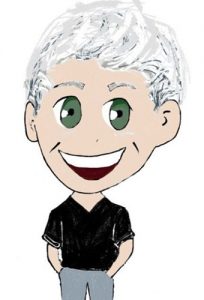 ? There's life without Facebook and Internet? Really? Send me the link.
?There are so many times I made you angry, upset, irritated and tired. Today I just wanted to say that I'm thinking of continuing.
?Your secrets are safe with me… I wasn't even listening.
Quote of the day (from Jerry):
'Remember, happiness doesn't depend upon who you are or what you have, it depends solely upon what you think'
American writer and self-improvement lecturer Dale Carnegie
* My thanks to Celia who drew the above Chibi character of me.
---
That's all for now!
You can contact me on 07759 646507 in case of an emergency
Be safe
John