Monday 29th June 2020 – Day Ninety Seven
Good morning everyone, hope that your weekend went well?
Mine was very nice as James was with me and I got some good news. I passed my Open University course. It was hard work, especially during these strange times, but was determined to use this time effectively – so very happy!
Have you accomplished something during lockdown? Learnt new a hobby? Developed an old skill? Perhaps you finished a book that you always promised to read?
I would love to hear from you.
---
What can I share with you today?
---
FOOD / SHOPPING
Thank you to everyone who has forwarded their wonderful support and comments to me regarding the Food Bank Project organised by Covent Garden Community Centre / 7 Dials Club. It is really gratifying to hear that so many people are benefiting from the service:
Foodbank – We are flexible with regards to who we can help. If you fit the following criteria, please register.
Self Isolation due to symptoms
Isolation due to vulnerable or shielded status
Income reduction because of lockdown & crisis measures
Income reduction while waiting for benefits to arrive
Homeless
---
Just a reminder. If you (or know of anyone) who cannot go out because they are vulnerable, self isolating or for any other reason and need help with food etc.
Assistance can be found on the government web page. The form is rather long, but is fairly straightforward. If you (or know of anyone who needs support) please let us know.
---
ART & CULTURE
From Chris B:
Garden Museum is Re-Opening 4th July.
The Garden Museum explores and celebrates British gardens and gardening through its collection, temporary exhibitions, events and garden. The Garden Museum is next door to Lambeth Palace, sitting on the bank of the Thames looking across to Parliament.
---
From Theresa K:
Sadler's Wells Theatre. Company of Elders Workshop:
Old School Hip Hop & Funk. In their final workshop of the series, Tommy Franzen introduces us to some Old School Hip Hop and Funk moves.
---
HEALTH
ZOOM WORKSHOP
From Sarah (Buckingham Palace, Queens Gallery). Tomorrow from 2pm.
Exploring Leonardo
Experienced London Warden, Dan Hudson, will once again lead another Community Zoom session for us, this time exploring Leonardo Da Vinci following the highly successful exhibition recently staged at The Queen's Gallery, London.
Please email John for the zoom link before 12pm tomorrow
---
From Leah:
The Phoenix Garden is starting a Restorative Deep Stretch Yoga Class from Thursday 16th July!
This Yoga class is suitable for beginners and requires a good level of mobility as there is movement between mat-based and standing positions. It's a slow pace with lots of deep stretches and an emphasis on well-being, breathing exercises to reduce stress and anxiety and a short relaxation to promote good sleep.
When: Every Thursday, from 10.30am-11.15am
Where: The Phoenix Garden, 21 Stacey Street, WC2H 8DG (the class will be held outside in the garden itself, weather depending)
Cost: £2 per session (cash only, please)
If you would like to come along please register for the classes using this Google Form
Once you have registered, we will be in touch to confirm your place. Please bear in mind that spaces are limited to allow for social distancing measures.
If you have any queries please get in touch with Leah on admin@thephoenixgarden.org or 07716 480 049
---
INFORMATION
From Age UK Camden:
Our Leather Lane Charity boutique in Leather Lane EC1 is open!
To ensure a safe environment we've reduced the stock on the shop floor and created a merchandising area with a premium, boutique feel! Help support the work we do and do your bit for the environment by shopping second hand and shopping local.
---
From AGE UK CAMDEN
Age UK Camden are in need of fabric face masks to send out to older Camden residents via their Care Packages.
They can source recycled materials via their Charity Boutique in Leather Lane but they need help to make this into masks. If you can help they would love to hear from you.
Please contact: sophie.smith@ageukcamden.org.uk

---
From Cindy Hacker:
Westminster City Council. Getting around the city safely.
As Westminster re-opens, we've been adapting our streets and roads to ensure you can safely move around the city by cycling or walking – check out our video to see how you can keep yourself and others around you safe.
---
LIGHTER SIDE OF LIFE
From Theresa – Smiles for the day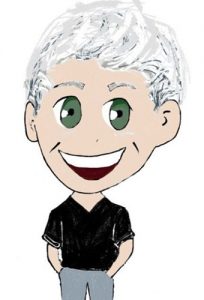 ? I am starting to understand why pets try to run out of the house when the door opens.
? Does anyone know if we can take showers yet? Or should we just keep washing our hands???
? You think it's bad now? In 20 years, our country will be run by people home schooled by day drinkers…
? Home schooling question: Does having your children fix you mixed cocktails count as a chemistry lesson?
? My Mom always told me I wouldn't accomplish anything by laying in the bed all day but look at me now! I'm saving the world!
? If anyone owes you money, go to their house now. They should be home.
* My thanks to Celia who drew the above Chibi character of me.
---
That's all for now!
You can contact me on 07759 646507 in case of an emergency
Be safe
John