Wednesday 15th July 2020 – Day One Hundred & Thirteen
Good morning all, hope that your week is going well so far.
I was reading about the BBC announcing its plans end free TV licences for the over 75 from the 1st August. There has been much reported about this, especially during this difficult period. I would be interested in your view and what this (if anything) will mean to you.
---
OUT & ABOUT
From Dave K: Reopening.
Camden Libraries – Following the most recent guidance from government, Camden are working on plans to make sure the libraries can be opened safely.
This will include a phased approach to reopening, with limited computer access available at two libraries first. Protecting residents and staff remains a high priority and Camden are working to make sure that safety measures are in place before reopening.
---
What can I share with you today?
---
FOOD / SHOPPING
Thank you to everyone who has forwarded their wonderful support and comments to me regarding the Food Bank Project organised by Covent Garden Community Centre / 7 Dials Club. It is really gratifying to hear that so many people are benefiting from the service:
Foodbank – We are flexible with regards to who we can help. If you fit the following criteria, please register.
Self Isolation due to symptoms
Isolation due to vulnerable or shielded status
Income reduction because of lockdown & crisis measures
Income reduction while waiting for benefits to arrive
Homeless
---
Just a reminder. If you (or know of anyone) who cannot go out because they are vulnerable, self isolating or for any other reason and need help with food etc.
Assistance can be found on the government web page. The form is rather long, but is fairly straightforward. If you (or know of anyone who needs support) please let us know.
---
ART & CULTURE
From Chris: The Wallace Collection is back!

They are delighted to welcome visitors back to the Wallace Collection, however, need to let you know that the museum works a little differently now their doors are open again.
Most importantly, visitor numbers are very limited to ensure effective social distancing measures can be taken and to keep everyone safe. A maximum of five tickets can be booked – is anyone interested in going? Perhaps in the first week of September?
If you are and want me to book a group, please get in contact
For more information: https://www.wallacecollection.org/visiting-safely/
---
From Theresa K: Victoria and Albert Museum
Conservation of the Ardabil Carpet: the oldest dated carpet in the world.
The beautiful Ardabil Carpet is one of the most important objects in the V&A's Middle Eastern Collection, and the centrepiece of our Jameel Gallery of Islamic art. As the world's oldest dated carpet, it is incredibly delicate and needs careful preservation.
---
From Chris B: LOOKING UP. HELAINE BLUMENFELD
Canary Wharf Group presents the largest solo exhibition to date of the work of Helaine Blumenfeld OBE, opening on 16 March 2020. Her lyrical and dynamic sculptures will be shown in the Lobby of One Canada Square and in outdoor locations across the Estate, including Jubilee Park, throughout the summer.
---
HEALTH
From Marcos: Zoom Sessions – Yoga and Meditation
Why not join Marcos for meditation on Tuesdays 10:30 – this is a session where you relax your body and your mind and at the end you'll feel easier /looser in your physical body and your mind sharper.
On Thursdays at 10.30 you also have a chance to do some chair yoga. You take your own pace to do some gentle simple movement following your breath.
These are both short sessions and they don't last much more than 30min each. Do come and have a go; it might be something that you can easily enjoy and it makes it a part of your weekly routine.
---
From Sharon K: Healthwatch Camden
Healthwatch Camden wants to hear from you about your experiences with COVID-19.
They are documenting the impact of COVID-19 and sharing insights each week with senior leaders in the NHS. If COVID-19 has affected your health and wellbeing or you have views on whether information about staying well has been easy to find and understand, tell them!
Call 020 7382 2402 to complete the survey over the phone with one of their staff members.
---
ZOOM WORKSHOPS
From Sarah (Royal Collection Trust):
Queens Gallery – Zoom Workshop – Tuesday 21st July 2020, 2pm – Inside Clarence House
Dan Hudson from Visitor Services at The Queen's Gallery in London will lead us on a fascinating tour of the collections and history of Clarence House, which stands beside St James's Palace. Clarence House was built between 1825 and 1827 to the designs of John Nash for Prince William Henry, Duke of Clarence. Today Clarence House is the official London residence of The Prince of Wales and The Duchess of Cornwall. Join us for a fascinating peak inside this historic building with an illustrated talk.
Please email John for the Link!
---
Reading Paintings in the Royal Collection
Thursday 16th July at 2pm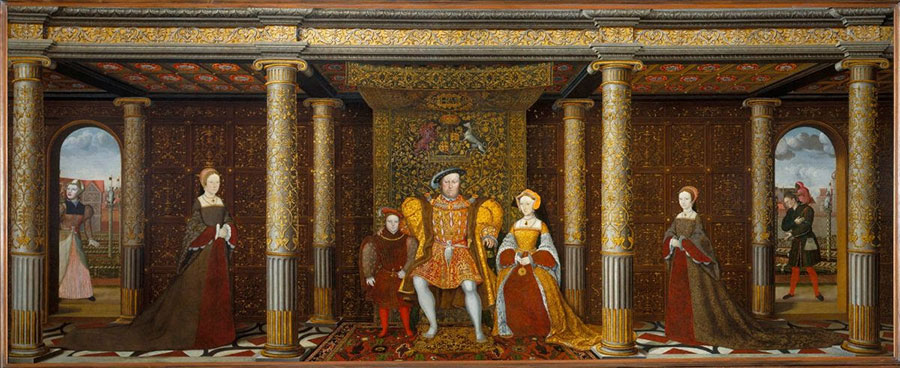 Dawn Purkiss continues to lead us in a fascinating study of paintings held within the Royal Collection.
Together we will be looking at paintings each week. Dawn will help us de-mystify a painting teaching us how to 'read' an art work. She will also encourage us to consider extending our studies to objects found at home via art, drama or photography etc. This is a rolling programme: more details will be revealed each week.
Above is just one of the painting that Dawn will be discussing. Please download pdf for all this week's paintings.
---
POETRY CORNER
Don Pepper Poetry
Congratulations to Don's new YOUTUBE channel.
Please support Don's poems. Follow the link and click 'like'. (Please note that Don sometimes uses strong language!) Today's poem:
Faeries are LGBT+ pagans, This poem explains what we are about.
---
LIGHTER SIDE OF LIFE
From Jerry (quote for the day):
"There are moments when I wish I could roll back the clock and take all the sadness away, but I have the feeling that if I did, the joy would be gone as well."
― Nicholas Sparks, A Walk to Remember
---
From Ruth H: (smile of the day) ?
A college class was told that they had to write a short story in as few words as possible. The instructions were: The story had to contain the following three things:
Religion
Sexuality
Mystery
Below is the only A+ short story in the entire class:
"Good God, I'm pregnant, I wonder who did it."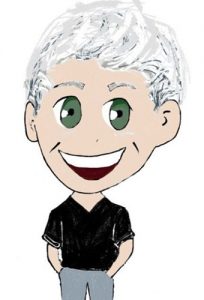 From Jerry (Smile of the day):
* My thanks to Celia who drew the Chibi character of me.
---
That's all for now!
You can contact me on 07759 646507 in case of an emergency
Be safe
John