Thursday 16th July 2020 – Day One Hundred & Fourteen
Good morning all, so today is 115 days since lockdown.
When I first began the updates, it was my intention was that I would include the number of days in the introductions, however, I gave up this idea, as it was too depressing. This must be my 100th blog! It was my aim to do one every day, but became a too lofty challenge!
Sincerely, what keeps me going is the continuous emails that I get on a (hourly) basis.
On equal measure they make me laugh, cry, think, sad, mad and, regularly inform me. Yesterday's question about tv licence, was a very hot subject, and I am still reading the messages and going through the links that you have sent. However, I thought I would share a snippet of quotes with you:-
"My personal view is that the government should never have stopped funding it in the first place. Interesting to see what everyone thinks, It was made the BBC's problem in 2011 but really is a social welfare issue".
"In principle the licence will remain free for those on welfare or pension credit, so perhaps that is a fair compromise, given that the government walked away and left the BBC holding the issue".
"No, I don't have a tv and haven't had one for years because there was so little on BBC I wanted to watch".
"In my opinion, the projected £750m cost saving is a substantial overestimate and the actual saving will be far less. The estimate assumes that most people who receive a free licence will pay for one if it isn't provided free – this is unlikely – many won't be able to afford it and others won't think the service is worth the fee. Personally, I don't watch enough television (live or recorded) to warrant paying £150 per annum – instead I listen to the radio (so I can multi-task) read newsletters and browse the web".
"The TV is (and has been) my best friend, especially during these lonely times. My income is very low and I don't receive benefits, I am worried about how I will afford to watch my TV in the future".
"I've heard suggestions that if you have to start paying for the TV license, to pay monthly might be the best, in case there's an about-turn soon".
Please keep emailing me your comments and suggestions – I will forward them on to someone, so that your voice is shared.
---
OUT & ABOUT
From Tudor A: Camden Libraries – Memories of The Bedford Theatre.
A film by Danny Nissim exploring the history of the Bedford Theatre in Camden High Street with memories of people who were there (©Danny Nissim) – running time 21 minutes.
---
What can I share with you today?
---
FOOD / SHOPPING
Thank you to everyone who has forwarded their wonderful support and comments to me regarding the Food Bank Project organised by Covent Garden Community Centre / 7 Dials Club. It is really gratifying to hear that so many people are benefiting from the service:
Foodbank – We are flexible with regards to who we can help. If you fit the following criteria, please register.
Self Isolation due to symptoms
Isolation due to vulnerable or shielded status
Income reduction because of lockdown & crisis measures
Income reduction while waiting for benefits to arrive
Homeless
---
Just a reminder. If you (or know of anyone) who cannot go out because they are vulnerable, self isolating or for any other reason and need help with food etc.
Assistance can be found on the government web page. The form is rather long, but is fairly straightforward. If you (or know of anyone who needs support) please let us know.
---
ART & CULTURE
From Sarah K: The Museum of London and the Museum of London Docklands are reopening on Thursday 6 August!
It's been a while, but they have some very exciting news to share…
There are some new measures in place that you need to be aware of, which they've brought in to ensure a safe and enjoyable visitor experience for everyone. You now need to book a free ticket to visit them for a chosen time slot, which you can do through the buttons below, and there are revised opening times in place for weekdays.
---
From Terry L: Royal Albert Hall Presents: The Kingdom Choir.
The Kingdom Choir will deliver an exclusive set as part of the Royal Albert Home sessions.
Led by one of the UK's most respected gospel tutors and choir conductors, Karen Gibson, The Kingdom Choir is made up of singers from in and around London. This session will be broadcast for free on Friday 17 July at 19:30
---
HEALTH
From Declan: Central YMCA
Upper body circuit workout!
Focusing on strength training with some cardio intervals.
Working shoulders, chest and upper back as well as arms – Have a broom handy!
---
INFORMATION
From Anny Ash (Community Engagement Lead, The Commitment).
Vote for a healthy planet, where the climate is stable and nature recovers.
The Commitment (www.thecommitment.uk) is working in Holborn & St Pancras as the starting point for a national project to speed up government action for a healthy planet. They want to support local politicians to take bold action by showing them the huge number of people, from every walk of life, who care about the health of their local environment and the planet as a whole.
For more information: https://www.thecommitment.uk/ or
email John for a copy of their information sheet
---
From Sharon K: Healthwatch Camden
Healthwatch Camden wants to hear from you about your experiences with COVID-19.
They are documenting the impact of COVID-19 and sharing insights each week with senior leaders in the NHS. If COVID-19 has affected your health and wellbeing or you have views on whether information about staying well has been easy to find and understand, tell them!
Call 020 7382 2402 to complete the survey over the phone with one of their staff members.
---
ZOOM WORKSHOPS
From Sarah (Royal Collection Trust):
Queens Gallery – Zoom Workshop – Tuesday 21st July 2020, 2pm – Inside Clarence House
Dan Hudson from Visitor Services at The Queen's Gallery in London will lead us on a fascinating tour of the collections and history of Clarence House, which stands beside St James's Palace. Clarence House was built between 1825 and 1827 to the designs of John Nash for Prince William Henry, Duke of Clarence. Today Clarence House is the official London residence of The Prince of Wales and The Duchess of Cornwall. Join us for a fascinating peak inside this historic building with an illustrated talk.
Please email John for the Link!
---
POETRY CORNER
From Janet Am:
"The Seven Ages of Man" from "As you like it" by William Shakespeare
The poem "The Seven Ages of Man" is a part of the play "As You Like It", where Jacques makes a dramatic speech in the presence of the Duke in Act II, Scene VII.
Through the voice of Jacques, Shakespeare sends out a profound message about life and our role in it. In this drama of life, each one of us plays seven distinct roles. This, the author says, is the Seven Ages of Man. These seven roles begin at birth and end with death.
Please click on the link to listen to the beautiful monologue by Janet

---
LIGHTER SIDE OF LIFE
From Jerry (smile for the day): ?
"I don't think of all the misery, but of the beauty that still remains."
― Anne Frank, The Diary of a Young Girl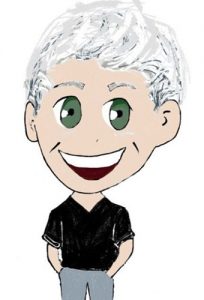 From Jerry (Smile of the day):
* My thanks to Celia who drew the Chibi character of me.
---
That's all for now!
You can contact me on 07759 646507 in case of an emergency
Be safe
John