Tuesday 14th July 2020 – Day One Hundred & Twelve
Good morning all, hope that your week is going well so far.
I am now putting in place actions to start activities from August. The sessions will be small and / or focused on being outside. I am also forward planning for September (and dare I say it…..Christmas!!). I sent out an email to many of our dancers yesterday, and have only received four responses, so please do take the time to read and respond. As well as the Afternoon Tea event, we are hoping to organise an exercise class, 1-1 smartphone workshops and walks in Phoenix Garden.
Kew Gardens is now also open, but has time slots and limited access. Would anyone like to a free ticket to this most beloved outdoor space? I am wanting to organise an outing for Thursday 13th August (11.00am). If so, please get in contact.
---
What can I share with you today?
---
OUT & ABOUT
From Sandra W:
Dear John, I think people might like to know that the Bedford Hotel in Southampton Row is now open.
It has a lovely garden at the back of the bar and restaurant, where people can meet in a self-distanced way. If it rains they can come inside and I think the windows to the garden slide back to give good ventilation. There are toilets on the same level.
The hotel is about 200 yards South of Russell Square at 83-95 Southampton Row, WC1B 4HD. Prices of food and drink are very reasonable with no minimum charge. I think they have a very good space for our times and I would like to see them prosper. I have in the past sometimes gone in there on my own to to sit in the sun and sip a drink and read.
---
From Kevin H:
During the lockdown the Hope Community Church isn't able to physically meet so they are live-streaming their talks in case you'd like to see them. Live in 5 days (Sunday 19th July at 17:00)
FOOD / SHOPPING
Thank you to everyone who has forwarded their wonderful support and comments to me regarding the Food Bank Project organised by Covent Garden Community Centre / 7 Dials Club. It is really gratifying to hear that so many people are benefiting from the service:
Foodbank – We are flexible with regards to who we can help. If you fit the following criteria, please register.
Self Isolation due to symptoms
Isolation due to vulnerable or shielded status
Income reduction because of lockdown & crisis measures
Income reduction while waiting for benefits to arrive
Homeless
---
Just a reminder. If you (or know of anyone) who cannot go out because they are vulnerable, self isolating or for any other reason and need help with food etc.
Assistance can be found on the government web page. The form is rather long, but is fairly straightforward. If you (or know of anyone who needs support) please let us know.
---
From Camden: Priority supermarket deliveries for vulnerable residents
On Monday 6 July, the Government began to relax their guidance for residents told to stay home and shield from the Covid-19 outbreak.
Despite this, we know that some of you still have concerns about maintaining a safe social distance whilst out and about. We think it's important that you are supported to stay home as much as you feel you need to, and so priority supermarket delivery slots will continue to be available to vulnerable residents. This service sets aside a number of daily delivery slots with Tesco and Iceland so that you can do your food shopping online.
For more information and to sign up for this service visit:
https://www.camden.gov.uk/priority-food-delivery or if you need
help contact our COVID-19 Support Line on 020 7974 4444 (option 9).
---
ART & CULTURE
From Chris B: MAKING LITTLE THEATRE BIG.
The online hub to watch performances from offwestend and fringe theatres from all around the world.
What's New on Scenesaver? There are now 90 productions available to watch for free on Scenesaver. Trending at the moment: Just An Ordinary Lawyer, a fascinating play about the UK's first black judge. Going Viral, a thought-provoking, funny one man show about a pandemic.
---
From Chris B: LOOKING UP. HELAINE BLUMENFELD
Canary Wharf Group presents the largest solo exhibition to date of the work of Helaine Blumenfeld OBE, opening on 16 March 2020. Her lyrical and dynamic sculptures will be shown in the Lobby of One Canada Square and in outdoor locations across the Estate, including Jubilee Park, throughout the summer.
---
HEALTH
From Marcos: Zoom Sessions – Yoga and Meditation
Why not join Marcos for meditation on Tuesdays 10:30 – this is a session where you relax your body and your mind and at the end you'll feel easier /looser in your physical body and your mind sharper. 
On Thursdays at 10.30 you also have a chance to do some chair yoga.  You take your own pace to do some gentle simple movement following your breath.
These are both short sessions and they don't last much more than 30min each. Do come and have a go; it might be something that you can easily enjoy and it makes it a part of your weekly routine.
---
ZOOM WORKSHOPS
Queens Gallery – Zoom Workshop
From Sarah (Royal Collection Trust): Windsor Castle – Highlights Tour
Tuesday 14th July at 2pm
Sophie Jones from the Learning Team in Windsor, has kindly agreed to take us on a whistle-stop tour through the castle's 1,000 extraordinary and vast history. See the many marks that monarchs have left behind and view many of the magnificent State rooms all from the comfort of your own home!
Please email John for the Link!
---
Reading Paintings in the Royal Collection
Thursday 16th July at 2pm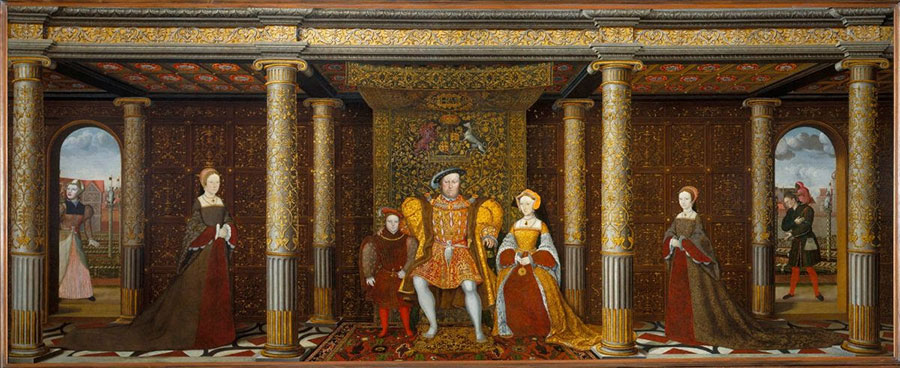 Dawn Purkiss continues to lead us in a fascinating study of paintings held within the Royal Collection.
Together we will be looking at paintings each week. Dawn will help us de-mystify a painting teaching us how to 'read' an art work. She will also encourage us to consider extending our studies to objects found at home via art, drama or photography etc. This is a rolling programme: more details will be revealed each week.
Above is just one of the painting that Dawn will be discussing. Please download pdf for all this week's paintings.
---
POETRY CORNER

From Janet Am: THE MAD POMEGRANATE TREE by Odysseus Elytis
At the beginning of his luminous career, the great Greek poet and Nobel Laureate Odysseus Elytis said: "I write so that black does not have the last word. "Black and light, sunshine and darkness, these were the two poles of Elytis' poetry, a pendulum between passion and patience, a bewilderment stretching throughout the day.
Please click on the link to listen to the beautiful monologue by Janet
---
LIGHTER SIDE OF LIFE
From Janet Am (quote for the day):
"Art is life affirming
Art is culture
Culture is peace
Hark at me!"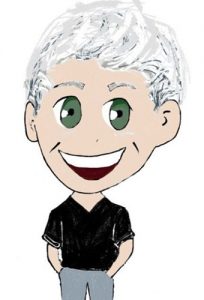 From Jerry (Smile of the day):

* My thanks to Celia who drew the Chibi character of me.
---
That's all for now!
You can contact me on 07759 646507 in case of an emergency
Be safe
John