Wednesday 8th July 2020 – Day One Hundred & Six
Good morning, hope that your night was a good one.
Today's update will be a slightly shorter one, as I am on leave today. I am hoping to start work next month (can't begin to tell you how excited I am), but need to put plans in preparation as James is still shielding.
Which leads me to this point, for those of you who have not been out for awhile, how are you feeling about leaving your home and interacting with others? Nervous? Excited?
It is a daunting prospect for some, so if you need help or advice do let us know. We can offer 'quiet' slots at Phoenix Garden. Maybe a volunteer could meet with you and have a social distancing coffee.
Just take it slowly, the confidence will come back.
---
What can I share with you today?
---
FOOD / SHOPPING
Thank you to everyone who has forwarded their wonderful support and comments to me regarding the Food Bank Project organised by Covent Garden Community Centre / 7 Dials Club. It is really gratifying to hear that so many people are benefiting from the service:
Foodbank – We are flexible with regards to who we can help. If you fit the following criteria, please register.
Self Isolation due to symptoms
Isolation due to vulnerable or shielded status
Income reduction because of lockdown & crisis measures
Income reduction while waiting for benefits to arrive
Homeless
---
Just a reminder. If you (or know of anyone) who cannot go out because they are vulnerable, self isolating or for any other reason and need help with food etc.
Assistance can be found on the government web page. The form is rather long, but is fairly straightforward. If you (or know of anyone who needs support) please let us know.
---
ART & CULTURE
From Theresa K: The Shadows At Sixty – BBC4 Programme.
The story of The Shadows told to celebrate their 60th anniversary using unseen archive, personal testimony and interviews with both the band and those they have influenced.
---
From Chris B: The Art Society
The Art Society want to enrich lives through the arts: even if we cannot leave our homes. During the the current situation many people will feel isolated and lonely. Visit their new site, The Arts Society Connected, to connect with people through a shared love for the arts.
---
From Chris B: The EFG London Jazz Festival

This year the EFG London Jazz Festival will be an event that is both live and digital – Living in Two Worlds – and will run from Friday 13 to Sunday 22 November 2020
The unprecedented circumstances of 2020 have meant we have had to rethink how music is experienced to create a Festival that is accessible to a wide audience and transcends borders.
---
HEALTH
Can you help? Unfortunately, one of our members needs to go to the dentist – she can't put it off any longer!
Has anyone done this recently? If so, what was it like? Did you feel safe? What PPE is worn by the staff?
This lady cannot travel to her own dentist in (which is not local, though is good) because she wants to avoid the tube at all costs. Could anyone recommend a dentist within walking distance of Russell Square?
Please email John if you have any information to share
---
INFORMATION
From Camden:
Residents invited to share their experiences of Covid-19 with Public Health.
Camden and Islington Public Health team would like to invite you to share your experiences of daily life during the pandemic through an online discussion. They will be holding online group discussions in July and August to learn more about how the pandemic is affecting you during this time.
Taking part is an opportunity to share your experiences and also listen to other's experiences too. If you decide to take part in a discussion you will be provided with a £10 shopping voucher as a thank you for your time.
Please contact them on: covid19survey@islington.gov.uk and see flyer below to this update for more information.
CAMDEN FLYER:
From Camden New Journal:
Coronavirus: Share your stories of kindness in Camden
Has a friend, neighbour, volunteer or community organisation helped you or someone you know during this crisis? It could be anything from picking up a prescription, or delivering groceries, to organising online activities. Or perhaps you've helped your community in some way.
Send in your story by emailing camdentalking@camden.gov.uk or tweeting using #WeMakeCamden
---
LIGHTER SIDE OF LIFE
From Jerry (Quote of the day):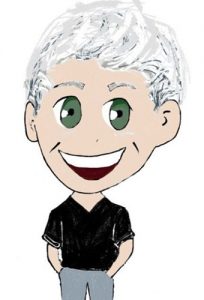 "Don't find fault, find a remedy" industrialist Henry Ford
From Martha – Take a moment

* My thanks to Celia who drew the Chibi character of me.
---
That's all for now!
You can contact me on 07759 646507 in case of an emergency
Be safe
John