Thursday 9th July 2020 – Day One Hundred & Seven
Good afternoon all, apologies for the late update. I have been on a Zoom Meeting entitled 'support to reopen community spaces. It is just one of the many action steps that I and my colleagues are undertaking, with the aim to get services open and accessible to everyone.
As soon as possible. And as safely as possible.
Your health and your safety is (and has always been) our main concern.
---
What can I share with you today?
---
FOOD / SHOPPING
Thank you to everyone who has forwarded their wonderful support and comments to me regarding the Food Bank Project organised by Covent Garden Community Centre / 7 Dials Club. It is really gratifying to hear that so many people are benefiting from the service:
Foodbank – We are flexible with regards to who we can help. If you fit the following criteria, please register.
Self Isolation due to symptoms
Isolation due to vulnerable or shielded status
Income reduction because of lockdown & crisis measures
Income reduction while waiting for benefits to arrive
Homeless
---
Just a reminder. If you (or know of anyone) who cannot go out because they are vulnerable, self isolating or for any other reason and need help with food etc.
Assistance can be found on the government web page. The form is rather long, but is fairly straightforward. If you (or know of anyone who needs support) please let us know.
---
From Theresa K: Recipe: Sweet Chilli Stir Fry – it's delicious!
Oodles and oodles of tasty noodles!
Noodles are a great one-hand dish, and my vegan take is popular with the whole family. Packed full of fresh vegetables and drizzled in a homemade sauce this recipe is sure to treat you right, especially if you suffer from IBS or are gluten-intolerant/coeliac.
---
From SUE Z: Eating out
I visited the Caffe Nero at Russell Square this morning.
It is now open for delivery and takeaway and will be open for table service come Monday. Such a treat. I had to drink my latte in Russell Square Park and fight off pigeons.
---
ART & CULTURE
From Chris B: Natural History Museum

The Museum is currently closed but their staff are working hard to prepare for reopening.
In the meantime delve into the Museum from home with a virtual self-guided tour of the galleries, Nature Live's where you can ask their scientists questions about our world as well as many other exciting events and activities.
---
From Ali M: Visit the City – A tour of the London Wall
London's Inspector of Ancient Monuments, Dr Jane Sidell, will give part one of a virtual tour of Roman London.
We'll start by walking up from the Southwark necropolis, past Tabard Square, up Borough High Street and then go over the bridge. Once over the bridge, we'll explore Roman London's landward wall from the Tower of London in the east to Blackfriars in the west.
Premieres in 2 days, 11 July, 11:00
---
HEALTH
Can you help? Unfortunately, one of our members needs to go to the dentist – she can't put it off any longer!
Has anyone done this recently? If so, what was it like? Did you feel safe? What PPE is worn by the staff?
This lady cannot travel to her own dentist in (which is not local, though is good) because she wants to avoid the tube at all costs. Could anyone recommend a dentist within walking distance of Russell Square?
Please email John if you have any information to share
---
INFORMATION

From Neil (WECT) – Smartphone / Tablet help
If you need help with a smartphone or tablet.
Please ring Monday to Friday 07768 907525.
Neil will call you straight back, you don't need to pay for the call.
---
From Sue: Scam Alert! Hello all I just got a huge time wasting scam call.
I got a automated call saying that my Internet was insecure and to press one for help. Otherwise, my service would be shut down with in 4 hours.
Of course, I fell for it.
Fortunately, the person with whom I spoke has a heavy accent and we laboured through his process, the call dropped. I went into a panic, rang the Post Office help line and have been reassured that it was a scam and that nothing is wrong with my Internet.
It took me a while to find this info. I don't use my landline at all, so I don't remember my landline number, receive email bills, so I managed to find the correct number, There was no waiting to get through to them for a change.
Thank God the call dropped. A narrow escape. They probably wanted me to connect some malware to my system. Whew.
If you think other people might go for this one, let them know.
---
LIGHTER SIDE OF LIFE
From Martha – Smile of the day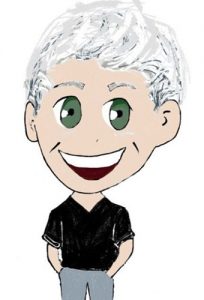 Next time a stranger talks to me when I'm alone, I will look at them shocked and whisper "You can see me?"
* My thanks to Celia who drew the Chibi character of me.
---
That's all for now!
You can contact me on 07759 646507 in case of an emergency
Be safe
John