Friday 10th July 2020 – Day One Hundred & Eight
Good morning all, firstly thank you to everyone who sent their dental experiences and suggestions.
Everyone who contacted remarked how professional the service was and how safe they felt. Another member who needs help with has asked where is the best place to get a mask. I have done a internet search, but if you have recently purchased one, please let me know and I will pass on your tips!

---
What can I share with you today?
---
FOOD / SHOPPING
Thank you to everyone who has forwarded their wonderful support and comments to me regarding the Food Bank Project organised by Covent Garden Community Centre / 7 Dials Club. It is really gratifying to hear that so many people are benefiting from the service:
Foodbank – We are flexible with regards to who we can help. If you fit the following criteria, please register.
Self Isolation due to symptoms
Isolation due to vulnerable or shielded status
Income reduction because of lockdown & crisis measures
Income reduction while waiting for benefits to arrive
Homeless
---
Just a reminder. If you (or know of anyone) who cannot go out because they are vulnerable, self isolating or for any other reason and need help with food etc.
Assistance can be found on the government web page. The form is rather long, but is fairly straightforward. If you (or know of anyone who needs support) please let us know.
---
From Camden: Priority supermarket deliveries for vulnerable residents
On Monday 6 July, the Government began to relax their guidance for residents told to stay home and shield from the Covid-19 outbreak.
Despite this, we know that some of you still have concerns about maintaining a safe social distance whilst out and about. We think it's important that you are supported to stay home as much as you feel you need to, and so priority supermarket delivery slots will continue to be available to vulnerable residents. This service sets aside a number of daily delivery slots with Tesco and Iceland so that you can do your food shopping online.
For more information and to sign up for this service visit:
https://www.camden.gov.uk/priority-food-delivery or if you need
help contact our COVID-19 Support Line on 020 7974 4444 (option 9).
---
ART & CULTURE
From David L: The show must go on!
Joseph And The Amazing Technicolor Dreamcoat – FULL SHOW
'Joseph and the Amazing Technicolor Dreamcoat' : Inspired by the record breaking London Palladium production, this version stars Donny Osmond, Maria Friedman, Richard Attenborough and Joan Collins. A lively and colourful journey through Ancient Egypt, Joseph and the Amazing Technicolor Dreamcoat follows the rags to riches story of Joseph, his eleven brothers and the coat of many colours.
Premieres in today at 19:00
---
From Sarah L: Royal Opera House
? Romeo and Juliet in full from The Royal Ballet | Full Performance
Romeo and Juliet fall passionately in love, but their families are caught up in a deadly feud. They marry in secret, but tragic circumstances lead Romeo to kill Juliet's cousin Tybalt in a fight. As punishment, Romeo is banished from Verona.
Premieres today at 19:00
---
POETRY CORNER
From Stephen (Age UK Westminster)
Poetry Reading – Monday 13th July 2.00pm – 4.00pm – via ZOOM
The Poetry Reading session has become popular and have heard several poetry recitals learning a little about each poet.
Choose your favourite poem to be recited to the group, discuss what it means to you and listen to other guest's favourites.
Each week there will be a theme for poetry selection, and you will be informed beforehand. This group will meet via ZOOM.
Please send your selected poem to Souad so that they can share with the group beforehand. If you would like to attend please contact Souad Abdellaoui:
Email: souad.abdellaoui@ageukwestminster.org.uk | Tel: 07903 255384
---
HEALTH
From Declan: Central YMCA
Zumba Gold Dance Session
Let's get moving! Find your space and join Declan for another fun Zumba Gold dance session.
Central YMCA is committed to supporting our members, volunteers, staff and the wider community during these challenging times.
---
INFORMATION
From Jenny: Metropolitan Police Fraud – information and advice
Following on from Sue's fraud warning yesterday (see below), Jenny sent this useful link.
Every year, the British public loses billions of pounds to fraudsters. With scams ranging from the simplest confidence trick to the most sophisticated high-tech online fraud, it pays to keep up to date with the latest news and advice. Find out more about fraud, its many types and how you can report it.
---
From Sue: Scam Alert! Hello all I just got a huge time wasting scam call.
I got a automated call saying that my Internet was insecure and to press one for help. Otherwise, my service would be shut down with in 4 hours.
Of course, I fell for it.
Fortunately, the person with whom I spoke has a heavy accent and we laboured through his process, the call dropped. I went into a panic, rang the Post Office help line and have been reassured that it was a scam and that nothing is wrong with my Internet.
It took me a while to find this info. I don't use my landline at all, so I don't remember my landline number, receive email bills, so I managed to find the correct number, There was no waiting to get through to them for a change.
Thank God the call dropped. A narrow escape. They probably wanted me to connect some malware to my system. Whew.
If you think other people might go for this one, let them know.

---
LIGHTER SIDE OF LIFE
From Jerry (quote of the day)
We make up horrors to help us cope with the real ones' — Author Stephen King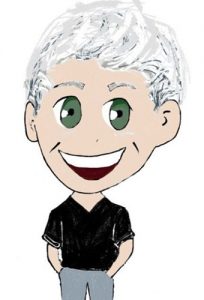 From Allen C – Cheesiest Jokes of the day!
? A ham sandwich walks into a bar and orders a beer, bartender says
"sorry, we don't serve food here."
? What do you call a fish without eyes? Fsh.
? Why did the scarecrow win an award? Because he was outstanding
in his field.
* My thanks to Celia who drew the Chibi character of me.
---
That's all for now!
You can contact me on 07759 646507 in case of an emergency
Be safe
John