Friday 3rd July 2020 – Day One Hundred & One
Good morning everyone, I hope that your week has been a good one and that the weekend ahead is a good one.
My question today is, will you be taking advantage of the new guidelines? Will you be visiting your favourite restaurant, pub or cafe? If you do, please share your experience with me, I would be very interested to hear about it.
Thank you to everyone who responded to my appeals with our 'Letters of hope' and 'Talking Heads' project, I will be in touch this afternoon to confirm details. BUT I need more members, so please do get in touch with me.
LETTER OF HOPES (St Joseph's Primary School)
From Michelle Zini-Lopes:
The children of St Joseph's Primary School are launching a heartwarming project; wanting to write to older people and letting them know that they have not been forgotten during this crisis. I hope you agree that this is a lovely idea and for it to work, I am looking for 15 – 20 members to take part.
Please let me know if you would like to hear from a child and if you do,
Please confirm how you want the letter:
Posted to you from the child (this would mean sharing your address)
From the child but posted by me (the school will forward the letters to me)
By email, the school will scan the letter and I will forward to you
Look forward to hearing from you!
Please email John if you would like to be involved
---
What can I share with you today?
---
FOOD / SHOPPING
Thank you to everyone who has forwarded their wonderful support and comments to me regarding the Food Bank Project organised by Covent Garden Community Centre / 7 Dials Club. It is really gratifying to hear that so many people are benefiting from the service:
Foodbank – We are flexible with regards to who we can help. If you fit the following criteria, please register.
Self Isolation due to symptoms
Isolation due to vulnerable or shielded status
Income reduction because of lockdown & crisis measures
Income reduction while waiting for benefits to arrive
Homeless
---
Just a reminder. If you (or know of anyone) who cannot go out because they are vulnerable, self isolating or for any other reason and need help with food etc.
Assistance can be found on the government web page. The form is rather long, but is fairly straightforward. If you (or know of anyone who needs support) please let us know.
---
ART & CULTURE
From Theresa K:
Michael Flatley Celtic Tiger – FULL STAGE SHOW! The international dancing master returns with another stage performance, taking as his subject the history and spirit of his native Ireland and its long traditions of music and dance.
Premieres tonight at 7:30pm
---
From Sarah K:
English National Ballet. La Sylphide | Free Full Performance.
La Sylphide is one of the jewels of Romantic ballet. With its "enchanting blend of dance and storytelling" (The Independent), it might just steal your heart. Expect ceilidh-loving Scots, ethereal forest spirits and vengeful witches!
---
HEALTH
From Declan – CENTRAL YMCA *new upload*
Join Declan for a 10-minute standing mobility session to help reduce stiffness and improve posture.
---
From Leah:
The Phoenix Garden is starting a Restorative Deep Stretch Yoga Class from Thursday 16th July!
This Yoga class is suitable for beginners and requires a good level of mobility as there is movement between mat-based and standing positions. It's a slow pace with lots of deep stretches and an emphasis on well-being, breathing exercises to reduce stress and anxiety and a short relaxation to promote good sleep.
When: Every Thursday, from 10.30am-11.15am
Where: The Phoenix Garden, 21 Stacey Street, WC2H 8DG (the class will be held outside in the garden itself, weather depending)
Cost: £2 per session (cash only, please)
If you would like to come along please register using this Google Form
Once you have registered, we will be in touch to confirm your place. Please bear in mind that spaces are limited to allow for social distancing measures.
If you have any queries please contact Leah on admin@thephoenixgarden.org or 07716 480 049
---
INFORMATION
From Sue Z:
Just to let members know, the Cafe Nero has reopened on Long Acre.
Takeaway only, of course, but it is a start. Only open M-F, don't remember the opening times, but probably something like 0900-1700. They make a great latte there.
---
From Cindy H:
Westminster City Council is all set to roll out out its city-wide 20mph limit.
Although we have no date for this yet, it is meant to coincide with proposals to gradually ease lockdown measures. Councillor Andrew Smith (Cabinet Member for Highways & Environment) stated "The way people are travelling around our city is changing, and as more people opt to walk and cycle in light of covid-19, we need to respond and adapt to ensure our streets are safe for all."
---
From Stephen (Age UK Westminster):
Mens' Group – Tuesday 7th July 2.00pm – 4.00pm
Their first Men's' Group was very successful providing a long list of ideas for activities that can be provided after Lockdown including Garden stations. Come along for chat and conversation on ZOOM and discuss what activities you would like to be organized as a group now and in the future. We will be holding a Mens' Group every fortnight. This is your chance to make new friends and to be involved in social activities.
If you would like to attend please contact Stephen Spavin: Email: stephen.spavin@ageukwestminster.org.uk
Tel: 07969 302517
---
POETRY CORNER
From Janet Am: Gender Bender – Trudy Howson
In this new poem written as part of our 2020 poetry celebrations, LGBT Poet Laureate Trudy Howson takes inspiration from the gender fluidity revealed within Shakespeare's plays and sonnets.
Please click on the link to listen to the beautiful monlogue by Janet
---
LIGHTER SIDE OF LIFE
From Sally P – Smiles for the day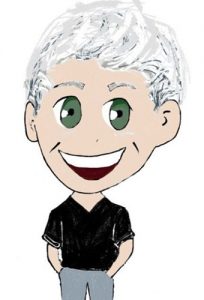 ? The only exercise I've done this month is running… out of money!
? Ironically jogging pants are mostly worn by the laziest people.
? Yes of course I am athletic… I surf the Internet every day.
Quote of the day (from Jerry):
'I would like to be remembered as a person who wanted to be free… so other people would be also free'
— American civil rights activist Rosa Parks
* My thanks to Celia who drew the above Chibi character of me.
---
That's all for now!
You can contact me on 07759 646507 in case of an emergency
Be safe
John
---