Friday 17th July 2020 – Day One Hundred & Fifteen
Good morning all…..
I received a couple of messages regarding yesterday post and the reference to home schooling and the photo of 'Debbie'. It was (mainly) in reference to use a photo of an older person in a negative way. For this I apologise. However, I do think this is a serious issue and I am sorry that the message was distracted by the use of the inappropriate image.
To ensure that the gravity of this situation is appropriately shared – I will instead use personal evidence as a warning:
Here is me. I am 55 years old, and I have been homeschooling James for 1 day
---
What can I share with you today?
---
MEMBERS VIEWS
Now onto more serious matters. Your thoughts are still coming in on the matter of the TV licence. Today will be the last day I share these comments, but please do keep emailing me with your viewpoints.
From Ruth:
Regarding the TV licence, when it was announced that over-75s would no longer get a free one I ditched my TV…… I don't think it is worth £150……I manage with Radio 3 and the online news bulletins. But I think it is quite wrong to charge over-75s for the licence again, the TV is a lifeline to many old people, and £150 is more than some can afford. And it was wrong of the government to dump the whole thing on the BBC…..
====================
From Anna:
Just to add my bit about the TV licence – I think to abolish the free licence is cruel to those very elderly people who rely on TV for news and entertainment (especially as many of them don't use the internet, and not all of them claim pension credit). I cancelled my TV licence nearly twenty years ago, and never missed TV – there's more than enough on the internet to read and watch. I firmly believe that the BBC is extremely politically biased, and should be de-funded, and the licence abolished completely.
====================
From Celia:
Celia has forwarded me a joint letter from the Mayor, Age UK London and PAiL encouraging eligible older Londoners to claim Pension Credit in the light of the change to the entitlement to free TV licences.
The letter includes:
From 1 August the free TV licence for people over 75 will only be available for those who claim Pension Credit. If you – or someone you know – could do with more money, as well as continuing to get the free TV licence, now is a good time to claim. You may be eligible, even if you own your home or have savings.
People who receive Pension Credit can also get free dental treatment and possibly help with Council Tax, housing costs and heating bills. Pension Credit is a benefit for people over state pension age. It is extra money that could top up your retirement income and help with the cost of living, but more than a hundred thousand families in London entitled to receive it could be missing out.
If you would like a copy of this letter and how to apply, please email me.
---
FOOD / SHOPPING
Thank you to everyone who has forwarded their wonderful support and comments to me regarding the Food Bank Project organised by Covent Garden Community Centre / 7 Dials Club. It is really gratifying to hear that so many people are benefiting from the service:
Foodbank – We are flexible with regards to who we can help. If you fit the following criteria, please register.
Self Isolation due to symptoms
Isolation due to vulnerable or shielded status
Income reduction because of lockdown & crisis measures
Income reduction while waiting for benefits to arrive
Homeless
---
Just a reminder. If you (or know of anyone) who cannot go out because they are vulnerable, self isolating or for any other reason and need help with food etc.
Assistance can be found on the government web page. The form is rather long, but is fairly straightforward. If you (or know of anyone who needs support) please let us know.
---
ART & CULTURE
From Chris B:

National Theatre. Amadeus by Peter Shaffer.
Watch the trailer for Peter Shaffer's iconic play about the jealousy and rivalry between young musical prodigy Mozart and court composer Salieri.
'A note-perfect production. Fresh, vital and musically inventive.' ★★★★★ Daily Telegraph
Amadeus is streaming from 7pm Thursday 16 July
---
From Sharon K:
Royal Opera House. ? Faust in full
Disillusioned with life, the aged philosopher Faust calls upon Satan to help him. The devil Méphistophélès appears and strikes a bargain with the philosopher: he will give him youth and the love of the beautiful Marguerite, if Faust will hand over his soul. Faust agrees, and Méphistophélès arranges matters so that Marguerite loses interest in her suitor Siébel and becomes infatuated with Faust.
Premieres tonight at 19:00
---
POETRY CORNER
Don Pepper Poetry
Congratulations to Don's new YOUTUBE channel.
Please support Don's poems. Follow the link and click 'like'. (Please note that Don sometimes uses strong language!)
Today's Poem:
The Person That I am Meant to Be. Unlike most of my poetry, this is more poetic prose and tells the story of my life.
---
HEALTH
From Rosie:
Dragon Hall Trust | Pilates In Later Life
Pilates is a low impact form of exercise that is an excellent route to increased fitness for older adults to build up your stamina, strength and flexibility.
Join Rosie on Zoom every Wednesday morning at 10:45
or watch her videos on our Youtube Channel
---
INFORMATION

From Viola (West End Community Trust). It's QUIZ TIME! (via Zoom)
Here is the link for our Quiz a week on Thursday when the lovely Leah will test our general knowledge – you're in for a fun night!
Topic: Neil drinkwater's Zoom Meeting | Time: Jul 23, 2020 06:30 PM London
Prize: A bottle of wine for the winner is on offer !
---
LIGHTER SIDE OF LIFE
From Jerry (Quote for the day): ?
On this day, 1953: Hilaire Belloc, writer of many talents, died. He had written his own epitaph, which read: 'When I am dead, I hope it may be said, his sins were scarlet but his books were read.'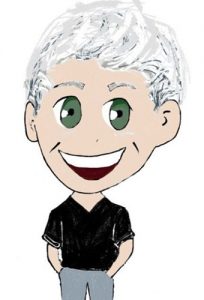 * My thanks to Celia who drew the Chibi character of me.
---
That's all for now!
You can contact me on 07759 646507 in case of an emergency
Be safe
John