Saturday 4th July 2020 – Day One Hundred & Two
Good afternoon, hope that your Saturday is going well so far.
I am also hoping that you are reading this, and not waiting to in a queue to get a haircut! I contacted my barber yesterday to book an appointment and was told that I could have one at 2:30pm…..on Thursday 13th August….lol
I guess my 'Grizzly Adams' look is going to remain for a little while longer.
Thank you to everyone who emailed yesterday, regarding the restrictions. For the vast majority of you, nothing has changed and you are continuing to social distance and cautiously see how things develop….which I think is exactly the right approach.
---
What can I share with you today?
---
FOOD / SHOPPING
Thank you to everyone who has forwarded their wonderful support and comments to me regarding the Food Bank Project organised by Covent Garden Community Centre / 7 Dials Club. It is really gratifying to hear that so many people are benefiting from the service:
Foodbank – We are flexible with regards to who we can help. If you fit the following criteria, please register.
Self Isolation due to symptoms
Isolation due to vulnerable or shielded status
Income reduction because of lockdown & crisis measures
Income reduction while waiting for benefits to arrive
Homeless
---
Just a reminder. If you (or know of anyone) who cannot go out because they are vulnerable, self isolating or for any other reason and need help with food etc.
Assistance can be found on the government web page. The form is rather long, but is fairly straightforward. If you (or know of anyone who needs support) please let us know.
---
ART & CULTURE
From Chris B: Royal Opera House.
La bohème in full.
When Rodolfo, a penniless poet, meets Mimì, a seamstress, they fall instantly in love. But their happiness is threatened when Rodolfo learns that Mimì is gravely ill.
This video will be available on-demand until 17 July 2020
---
From Theresa K: Danim Studios.
'The Mirror' Dance Animation by Danim Studios. Music by Blanco White 'Colder Heavens'.
The story starts with an adult man character, whose outlook on life has become bleak; his body language shows a life lacking in enthusiasm and passion. But when he looks into a mirror, he sees his younger self staring back at him. The kid mimics his partner's every move, fluidly and effortlessly.
---
ZOOM WORKSHOPS
A summary of our current weekly timetable
Every Monday morning (11.00 – 11.45) – Flamenco with Sam
For full details please email Sam: info@flamencoshow.co.uk
——————–
Every Monday evening (18.00pm – 18.45pm) – Retro aerobics
For full details please email Christine: christinescoker@gmail.com
——————–
Every Tuesday morning(10.30 – 10.15) – Meditation with Marcos
For full details please email Marcos: m.viliotti@btinternet.com
——————–
Every Tuesday afternoon (14.00 – 15.00) – Queens Gallery Workshop
This week, Inside Clarence House. Dan Hudson will lead us on a fascinating tour of the collections and history of Clarence House, which stands beside St James's Palace. Clarence House was built between 1825 and 1827 to the designs of John Nash for Prince William Henry, Duke of Clarence. Today Clarence House is the official London residence of The Prince of Wales and The Duchess of Cornwall.
Please email John for the link
——————–
Every Wednesday Morning (10.45 – 11.30) – Pilates with Rosie
For full details please email: rosysanders@hotmail.com
——————–
Every Thursday Morning (10.30 – 11:15) – Yoga with Marcos
For full details please email Marcos: m.viliotti@btinternet.com
——————–
Every Thursday Afternoon (14.00 – 15.00) – Queens Gallery Workshop
Dawn Purkiss will be leading us in a fascinating study of paintings held within the Royal Collection. Dawn will help us de-mystify a painting teaching us how to 'read' an art work. She will also encourage us to consider extending our studies to objects found at home via art, drama or photography etc.
Please email John for the link
——————–
Every Thursday evening (19.00 – 19.45) Conversational French with Constantin
This social class will teach you the basics and fundamentals of the french language, and enable you to practice your new learned skills with your colleagues and teacher(s) in the class. The classes are conducted on a powerpoint presentation for guidance and explanation, and then we utilise the multiple slides to interact amongst each other in the class.
For full details please email Constantin: constantin.zavvos@gmail.com
——————–
** Please note that our Sunday Social with Amber will resume again on the 18th July as Amber is on annual leave.
** is there a Zoom class that you would like me to arrange? Please send me an email with your suggestion.
---
INFORMATION
A number of members have asked when will Phoenix Garden be opening up time slots for people to visit.
This should happen by the beginning of next week. If you are interested in booking a time to visit, and have the opportunity to walk and sit in (semi) silence and confident that you will have space to do this, please can you email me.
---
POETRY CORNER
From Janet Am: "The Cloths of Heaven"
A poem by William Butler Yeats. It was published in 1899 in his third volume of poetry, The Wind Among the Reeds.
This short poem was written for Maud Gonne, the woman Yeats loved for many years and viewed as his chief muse. They never married, although Yeats asked her on several occasions.
Please click on the link to listen to the beautiful monlogue by Janet
---
LIGHTER SIDE OF LIFE
Nigel M: – Smiles for the day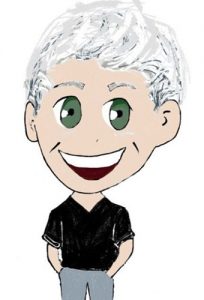 Quote of the day (from Jerry):
"All generalisations are false… including this one'"— US author Mark Twain
* My thanks to Celia who drew the above Chibi character of me.
---
That's all for now!
You can contact me on 07759 646507 in case of an emergency
Be safe
John
---