Saturday 27th June 2020 – Day Ninety Five
Good morning
I hope that your weekend is starting well, a shame that we have seen such a change in the weather (as I write this, the clouds are grey and it looks as if another downpour is due). As I have mentioned before, one of the most wonderful aspects of this lockdown is the wonderful emails that you have shared with me, which has included advice, tips,suggestions and worldly advice. An example of this is a wonderful story from Jerry:
Saying Grace….
This is a story of a visiting pastor who attended a men's breakfast in the middle of a rural farming area of the country. The group had asked an older farmer, decked out in bib overalls, to say grace for the morning breakfast. "Lord, I hate buttermilk", the farmer began. The visiting pastor opened one eye to glance at the farmer and wonder where this was going. The farmer loudly proclaimed, "Lord, I hate lard." Now the pastor was growing concerned. Without missing a beat, the farmer continued, "And Lord, you know I don't much care for raw white flour".
The pastor once again opened an eye to glance around the room and saw that he wasn't the only one to feel uncomfortable. Then the farmer added, "But Lord, when you mix them all together and bake them, I do love warm fresh biscuits. So Lord, when things come up that we don't like, when life gets hard, when we don't understand what you're saying to us, help us to just relax and wait until you are done mixing. It will probably be even better than biscuits. Amen.
---
FOOD / SHOPPING
Thank you to everyone who has forwarded their wonderful support and comments to me regarding the Food Bank Project organised by Covent Garden Community Centre / 7 Dials Club. It is really gratifying to hear that so many people are benefiting from the service:
Foodbank – We are flexible with regards to who we can help. If you fit the following criteria, please register.
Self Isolation due to symptoms
Isolation due to vulnerable or shielded status
Income reduction because of lockdown & crisis measures
Income reduction while waiting for benefits to arrive
Homeless
---
Just a reminder. If you (or know of anyone) who cannot go out because they are vulnerable, self isolating or for any other reason and need help with food etc.
Assistance can be found on the government web page. The form is rather long, but is fairly straightforward. If you (or know of anyone who needs support) please let us know.
---
SOCIAL SUNDAY

Coffee Sunday with Amber. Hello all!
Here are the details for our trivia game this Sunday! Let me know if you'd like a certain theme for the trivia this Sunday. I was thinking of a music theme for the next one.
Topic: Coffee Sunday with Amber
Time: Jun 28, 2020 10:30 AM London
To Join Amber's Social Sunday Zoom Meetings
I hope to see you there!
Amber
---
ART & CULTURE
From Theresa K:
Clara-Jumi Kang: Massenet, "Thais" Meditation (Encore). Such an emotional piece & played beautifully with emotion. Symphonic Festival 2018, Seoul Arts Center, Seoul Philharmonic Orchestra – Shi Yeon Sung, Conductor.
---
From Chris B:
Kensington and Chelsea Art week.
A world of culture in West London 2020.
---
INFORMATION
From Cindy H:
Getting around in Westminster:
Over the past weeks, the Council has moved to ensure that we can reopen the city safely. In the coming weeks, they expect the number of people walking and cycling in Westminster to increase dramatically as lockdown measures are eased. To respond to this the Council is introducing new cycle routes and walkways across the city.
The new measures are constantly being updated and implemented as part of the Council's post-lockdown movement strategy. So far they have created more the 19,000m2 of new space to walk and over 11km of cycleways to ensure that they can welcome more people back to Westminster.
If you are out and about this weekend exploring Westminster, please let me know what you think of the new measures put in place to help you maintain a safe distance between yourself and others.

---
OUT AND ABOUT
From Chris B:
National Garden Scheme.
NGS are delighted to announce that many of their gardens in England are now open. All visitors must pre-purchase tickets on our website for a timed slot at their garden of choice. All funds raised will go to the Help Support Our Nurses campaign. For full details and to see those gardens opening click below.
Last week of new virtual garden visits. Warton Gardens, Lancashire; the essence of the National Garden Scheme ethos. As we come to the end of our Virtual Garden Visits campaign it's a real delight to share this film of Warton Gardens in Lancashire. Embodying the spirit of the National Garden Scheme – quality gardens packed full of fabulous planting and inspirational ideas and owners and with a strong passion for community, wildlife and wellbeing – this is a garden group that provides a fitting finale to our film releases. Becky Hindley walks us through the fabulous gardens of Warton.
---
FUNNY SIDE OF LIFE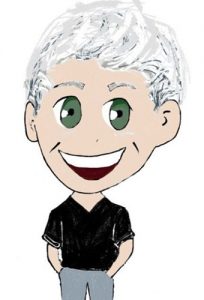 A paraprosdokian is a figure of speech in which the latter part of a sentence, phrase, or larger discourse is surprising or unexpected in a way that causes the reader or listener to reframe or reinterpret the first part.
It is frequently used for humorous or dramatic effect, sometimes producing an anticlimax. Here are some examples:
Going to church doesn't make you a Christian any more than standing in your garage makes you a car.
I'm supposed to respect my elders, but it's getting harder and harder for me to find one now.
"I am not arguing with you, I am explaining why you are wrong."
* My thanks to Celia who drew the above Chibi character of me.
---
That's all for now!
You can contact me on 07759 646507 in case of an emergency
Be safe
John