Friday 26th June 2020 – Day Ninety Four
Good morning all, thank you to everyone who has contacted me regarding what sessions they want to see started from August.
It was great to hear from you. I am in the process of contacting venues and tutors and hope to have some plans set in a couple of weeks – watch this space!
---
What can I share with you today?
---
FOOD / SHOPPING
Thank you to everyone who has forwarded their wonderful support and comments to me regarding the Food Bank Project organised by Covent Garden Community Centre / 7 Dials Club. It is really gratifying to hear that so many people are benefiting from the service:
Foodbank – We are flexible with regards to who we can help. If you fit the following criteria, please register.
Self Isolation due to symptoms
Isolation due to vulnerable or shielded status
Income reduction because of lockdown & crisis measures
Income reduction while waiting for benefits to arrive
Homeless
---
Just a reminder. If you (or know of anyone) who cannot go out because they are vulnerable, self isolating or for any other reason and need help with food etc.
Assistance can be found on the government web page. The form is rather long, but is fairly straightforward. If you (or know of anyone who needs support) please let us know.
---
ART & CULTURE
From Chris B: National Theatre.
A Midsummer Night's Dream.
Watch the Bridge Theatre's magical and immersive production of A Midsummer Night's Dream. ? 'Are you sure that we are awake? It seems to me that yet we sleep, we dream.' ?✨ A feuding fairy King and Queen cross paths with four runaway lovers and a troupe of actors trying to rehearse a play. As their dispute grows, the magical royal couple meddle with mortal lives in the forest, to hilarious, but dark, consequences.
---
From Madeline J:
The Show must go on. The Sound of Music.
Tonight, Rodgers and Hammerstein's timeless musical classic starring Carrie Underwood, returns is on The Shows Must Go On from 7pm.
---
From Sarah K: Royal Opera House.
Woolf  Works in full from The Royal Ballet.
Join The Royal Ballet for a Premiere stream of Wayne McGregor's Woolf Works, featuring music by Max Richter and inspired by the writings of Virginia Woolf
---
HEALTH
From Leah:
The Phoenix Garden is starting a Restorative Deep Stretch Yoga Class from Thursday 16th July!
This Yoga class is suitable for beginners and requires a good level of mobility as there is movement between mat-based and standing positions. It's a slow pace with lots of deep stretches and an emphasis on well-being, breathing exercises to reduce stress and anxiety and a short relaxation to promote good sleep.
When: Every Thursday, from 10.30am-11.15am
Where: The Phoenix Garden, 21 Stacey Street, WC2H 8DG (the class will be held outside in the garden itself, weather depending)
Cost: £2 per session (cash only, please)
If you would like to come along please register for the classes using this Google Form
Once you have registered, we will be in touch to confirm your place. Please bear in mind that spaces are limited to allow for social distancing measures.
If you have any queries please get in touch with Leah on admin@thephoenixgarden.org or 07716 480 049
---
From Declan.
Central YMCA. Join Declan as he leads you through a gentle thirty-five minute Chair based Pilates session.
VIRTUAL TOURS
From Theresa K:
A new way to experience Sir John Soane's Museum.
Welcome to Explore Soane. The historic house, musem and library of 19th century architect Sir John Soane – now made digital. Get closer than ever before to its fascinating objects and see its eclectic rooms in a new light.
---
From Chris B:
Virtual tours of the National Gallery.
Wherever you are in the world, take a tour of the National Gallery. Their three virtual tours allow you to step inside the Gallery and explore one of the greatest collections of paintings, from the comfort of your home.
---
INFORMATION
From Age UK Camden:
Our Leather Lane Charity boutique in Leather Lane EC1 is open!
To ensure a safe environment we've reduced the stock on the shop floor and created a merchandising area with a premium, boutique feel! Help support the work we do and do your bit for the environment by shopping second hand and shopping local.
---
LIGHTER SIDE OF LIFE
From Jerry: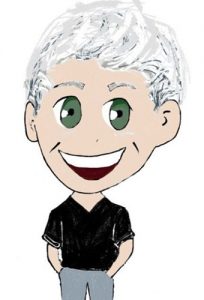 A paraprosdokian is a figure of speech in which the latter part of a sentence, phrase, or larger discourse is surprising or unexpected in a way that causes the reader or listener to reframe or reinterpret the first part. It is frequently used for humorous or dramatic effect, sometimes producing an anticlimax. Here are some examples:
A clear conscience is the sign of a bad memory.
I used to be indecisive. Now I'm not so sure.
Nostalgia isn't what it used to be. Nor is there any future in it.
* My thanks to Celia who drew the above Chibi character of me.
---
That's all for now!
You can contact me on 07759 646507 in case of an emergency
Be safe
John