Monday 20th July 2020 – Day One Hundred & Eighteen
Good morning all, how was your weekend?
I had the weekend to myself, so I let my hair down!
First I started a deep clean on the bathroom, then I tacked the bedrooms and then went through a de-clutter. That sounds boring (and it does when I read it back), but it was deeply satisfying….with no irony intended, I really do need to get out more ?
Tomorrow will be my last daily update.
Amber is now back from her holidays and on duty (if you can say back from her holidays and on duty and still be in Hawaii!), but will be taking over the reigns from this week.
It has been an incredible journey these last five months, but I now need to focus on reopening activities in the 'real world'.
More information tomorrow.
---
What can I share with you today?
---
MEMBERS VIEWS
From Lynda C:
Hi John, thanks for all the updates. Here is one I like to share. It is about my freedom pass.
Last week I tried to get to the hairdresser early, to have a haircut at 9 am and avoid the queue. When I got on to the bus, the driver told me I couldn't use my pass until after 9:30 am. I didn't prepare for this, so I had no choice but to pay with my credit card. Though not a lot of money, I think it's wrong for the decision to scrap the use of freedom pass for pensioners before 9:30am.
I have quite a few hospital appointments in the next coming months and appointments are at 9 am.That means I have to travel before this time. How many freedom pass holders travel before 9:00 am for hospital or GP appointments?
I remembered Ken Livingstone arguing for freedom pass holders to be able to travel before 9:30 am putting the case stating that freedom pass holders travelling before 9:30 am is only a tiny fraction of the population and that the government hardly losing money on that!
This was the best thing that Ken Livingstone had done for the pensioners!
I'm afraid that soon our the powers to be will scrap our freedom pass altogether! Transportation is expensive for us pensioners and without it, I would not be able to afford to get out and about to classes and visit friends. To me the freedom pass is my lifeline!
I hope all the pensioners will support that we will never let the government scrap our freedom pass!
Do you have anything you want to share about the recent
changes in travel arrangements?
---
FOOD / SHOPPING
Thank you to everyone who has forwarded their wonderful support and comments to me regarding the Food Bank Project organised by Covent Garden Community Centre / 7 Dials Club. It is really gratifying to hear that so many people are benefiting from the service:
Foodbank – We are flexible with regards to who we can help. If you fit the following criteria, please register.
Self Isolation due to symptoms
Isolation due to vulnerable or shielded status
Income reduction because of lockdown & crisis measures
Income reduction while waiting for benefits to arrive
Homeless
---
Just a reminder. If you (or know of anyone) who cannot go out because they are vulnerable, self isolating or for any other reason and need help with food etc.
Assistance can be found on the government web page. The form is rather long, but is fairly straightforward. If you (or know of anyone who needs support) please let us know.
---
ART & CULTURE
From Chris B:
Kings Place – Culture Clinic
Have you missed the tingle of a live performance? Experience bespoke one-to-one performances by leading musicians in a safe environment. Individuals or groups of up to six people can share their personal lockdown story or mood with one of the guest artists who will prescribe a piece of music or a literary response. Tickets are free but donations welcome to help support our programme and artists.
---
From Sarah K:
Songhaven at Home – Flora & Fauna themed concert
Concert filmed live at Lumen URC, London in 2019 featuring Eleanor Ross (soprano), Jonathan Cooke (tenor) and Lana Bode (pianist). Songhaven concerts are relaxed, dementia-friendly and shame-free. Movement, noise, and singing along from the audience is warmly welcomed.
---
POETRY CORNER
From Janet Am:
"Weigel's Props by Bertolt Brecht
Bertolt Brecht, original name Eugen Berthold Friedrich Brecht, (born February 10, 1898, Augsburg, Germany—died August 14, 1956, East Berlin).
Eugen was a German poet, playwright, and theatrical reformer whose epic theatre departed from the conventions of theatrical illusion and developed the drama as a social and ideological forum for leftist causes.
Listen to the beautiful monologue by Janet:
---
WELCOME (to our newest volunteer)
Dragon Hall has, over the last few months, relied on the generosity and support of many volunteers. From helping with medication, shopping and laundry needs. We are grateful for their time and without them, would not be able to deliver the support that we want. I would like to take this time to introduce our newest recruit – Stevie Dawson.
From Stevie: "I'm Stevie, a resident of Bloomsbury and since lockdown a keen rooftop gardener! I'm originally from Manchester and I work in TV production although I'm about to start studies in Health and Social Care as I start a gradual career change.
The pandemic has reminded me and I'm sure all of us how much we rely on each other as a community so I'm looking forward to getting to know more of my neighbours and hopefully we can help each other through these unusual times.
If I'm not on my roof trying to grow things I'm often out walking, pointing my telescope at distant objects or watching Coronation Street.
Through the Dragon Hall Community Centre, we will be offering support and guidance to people getting to grips with smartphones and tablets in order to stay better connected so I will be around to help with that as and when required – at a social distance of course!"
---
HEALTH
From Theresa:
Yesterday my Doctor/specialist said that I have De Quervain's tenosynovitis.
I suspect that's from doing too much gardening & paperwork. De Quervain's tenosynovitis (dih-kwer-VAINS ten-oh-sine-oh-VIE-tis) is a painful condition affecting the tendons on the thumb side of your wrist. If you have de Quervain's tenosynovitis, it will probably hurt when you turn your wrist, grasp anything or make a fist. Theresa asks: if anyone had it before, what was the cause, what did they take & how long did it take them to recover.
---
From Rita:
Last month, I shared a request from Age UK Camden asking for help making face masks.
A number of members responded, including Rita. Rita has been busy these last few days and has made over 20 masks, all of them washable and reusable.
Thank you Rita for all your wonderful efforts!
---
INFORMATION

From Viola (West End Community Trust). It's QUIZ TIME! (via Zoom)
Here is the link for our Quiz a week on Thursday when the lovely Leah will test our general knowledge – you're in for a fun night!
Topic: Neil drinkwater's Zoom Meeting | Time: Jul 23, 2020 06:30 PM London
Prize: A bottle of wine for the winner is on offer !
---
LIGHTER SIDE OF LIFE
From Jerry (Quote for the day): ?
"A flower blossoms for its own joy."
― Oscar Wilde
From Claude: (smile of the day) ?

Saw this on Instagram, thought this was funny and might go in one of your newsletters.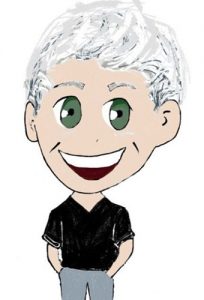 * My thanks to Celia who drew the Chibi character of me.
---
That's all for now!
You can contact me on 07759 646507 in case of an emergency
Be safe
John