Saturday 11th July 2020 – Day One Hundred & Nine
Good afternoon all. Hope your Saturday is going well so far?
Thank you to everyone who forwarded information regarding where to purchase a face mask. I was inundated with messages, so I thought I would share with you the suggestions that were forwarded to me, in the hope that they will be useful to others.
From Celia:
You can buy 2 in a pack @Poundland. I also saw larger packs of them for £7.99 at Lidl

---
From Hilary:
Boots have a wide range of medical and surgical masks in a selection of pack sizes and of reusable masks and filters which are all currently in stock.
They also sell nitrile gloves although these are currently out of stock almost everywhere bar St John's Ambulance – probably because their delivery charge is exorbitant.

---
From Jane D:
Watson's the chemists are giving away masks, or they were, though I don't know if they've still got them.

---
From Sandy:
I know boots pharmacy is available ? mask .
They sale between 32-35 pound for box in 50 masks. They're good quality.

---
From Jane D: Big Bloomers.
These non-surgical masks are water repellent and antibacterial, and protect from droplets whilst covering the mouth and nose.
They are washable and reusable, and are made from soft and breathable fabric.
---
From Christine:
Selling in Sainsburys – Julien McDonald

---
From Helena:
Try Kerrs Chemist, 41 Bloomsbury Way, Holborn.
Next to St George's Bloomsbury. (I think of this as New Oxford St. It's the 38, 55 bus route). They are helpful and have a variety of masks.

---
What can I share with you today?
---
FOOD / SHOPPING
Thank you to everyone who has forwarded their wonderful support and comments to me regarding the Food Bank Project organised by Covent Garden Community Centre / 7 Dials Club. It is really gratifying to hear that so many people are benefiting from the service:
Foodbank – We are flexible with regards to who we can help. If you fit the following criteria, please register.
Self Isolation due to symptoms
Isolation due to vulnerable or shielded status
Income reduction because of lockdown & crisis measures
Income reduction while waiting for benefits to arrive
Homeless
---
Just a reminder. If you (or know of anyone) who cannot go out because they are vulnerable, self isolating or for any other reason and need help with food etc.
Assistance can be found on the government web page. The form is rather long, but is fairly straightforward. If you (or know of anyone who needs support) please let us know.
---
From Camden: Priority supermarket deliveries for vulnerable residents
On Monday 6 July, the Government began to relax their guidance for residents told to stay home and shield from the Covid-19 outbreak.
Despite this, we know that some of you still have concerns about maintaining a safe social distance whilst out and about. We think it's important that you are supported to stay home as much as you feel you need to, and so priority supermarket delivery slots will continue to be available to vulnerable residents. This service sets aside a number of daily delivery slots with Tesco and Iceland so that you can do your food shopping online.
For more information and to sign up for this service visit:
https://www.camden.gov.uk/priority-food-delivery or if you need
help contact our COVID-19 Support Line on 020 7974 4444 (option 9).
---
ART & CULTURE
From Theresa K:
Victoria and Albert Museum | Secrets of shoe design
The museum some of the world's finest shoe designers and makers, Manolo Blahnik, Mark Hare, Caroline Groves, Sandra Choi and Christian Louboutin, about their design practice and sources of inspiration. This film was produced as part of the Shoes: Pleasure and Pain exhibition 13 June 2015 – 31 January 2016.
---
From Chris B:
Tramshed – They've taken their emerging artists talent online for a Free Festival like no other!
We may have all been locked down and locked in but our creative spirits have still be soaring. Come together with us online to watch the incredible live performance work young and emerging artists have been making whilst in lockdown. The limitations of staying home and social distancing have been embraced by these artists to make new work the likes of which has never been experienced before. Across Zoom, Facebook, Instagram, YouTube and Twitter this festival will bring innovation to your homes from their homes.
---
From Derek J:
Royal Albert Hall – Royal Albert at Home | Marian Hill
Philadelphia duo Marian Hill will deliver an exclusive set from their homes as part of the Royal Albert Home sessions.
The genre-crossing duo is made up of production artist Jeremy Lloyd and vocalist Samantha Gongol.
Following the release of their two EPs, Play and Sway, Marian Hill released their acclaimed debut album, Act One, in 2016 and follow-up Unusual in 2018.
This session will be broadcast for free.
---
HEALTH
From Declan: Central YMCA
Balance and Motor Skills Challenge
This workout focuses on improving motor skills, coordination and reaction time! Challenge yourself by working with different bits of home equipment including a broom and fruit!
---
Queens Gallery – Zoom Workshop
From Sarah (Royal Collection Trust): Windsor Castle – Highlights Tour
Tuesday 14th July at 2pm
Sophie Jones from the Learning Team in Windsor, has kindly agreed to take us on a whistle-stop tour through the castle's 1,000 extraordinary and vast history. See the many marks that monarchs have left behind and view many of the magnificent State rooms all from the comfort of your own home!
Please email John for the Link!
---
LIGHTER SIDE OF LIFE
From Sarah K:
"Imperfection is beauty, madness is genius and it's better to be absolutely ridiculous than absolutely boring."― Marilyn Monroe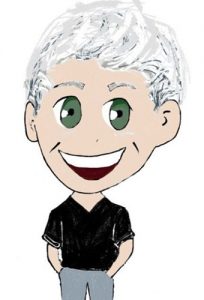 From Allen C – Cheesiest Jokes of the day!
? Why did the golfer bring two pairs of pants?
In case he got a hole in one.
? Why did the man get hit by a bike every day?
He was stuck in a vicious cycle.
? Why do people say "break a leg" when you go on stage?
Because every play has a cast.
* My thanks to Celia who drew the Chibi character of me.
---
That's all for now!
You can contact me on 07759 646507 in case of an emergency
Be safe
John