Wednesday 1st February 2023
WEDNESDAY UPDATE
Good afternoon.
Welcome to our regular online newsletter, which lists all current and future activities that I organise.
John
You can leave me a message on Whatsapp.
My Mobile number is: 07759 646507
My email address is: john@dragonhall.org.uk
COVENT GARDEN PANTRY
Covent Garden Food Bank is reopening in a new guise – if you consider yourself in need due to the Cost of Living Crisis then refer yourself to Covent Garden Pantry to receive an emergency food and hygiene parcel.
We are taking referrals from residents of Holborn and Covent Garden Ward, the Covent Garden side of St James Ward and the Soho part of West End Ward.
This is the link to the referral form: shorturl.at/bASU8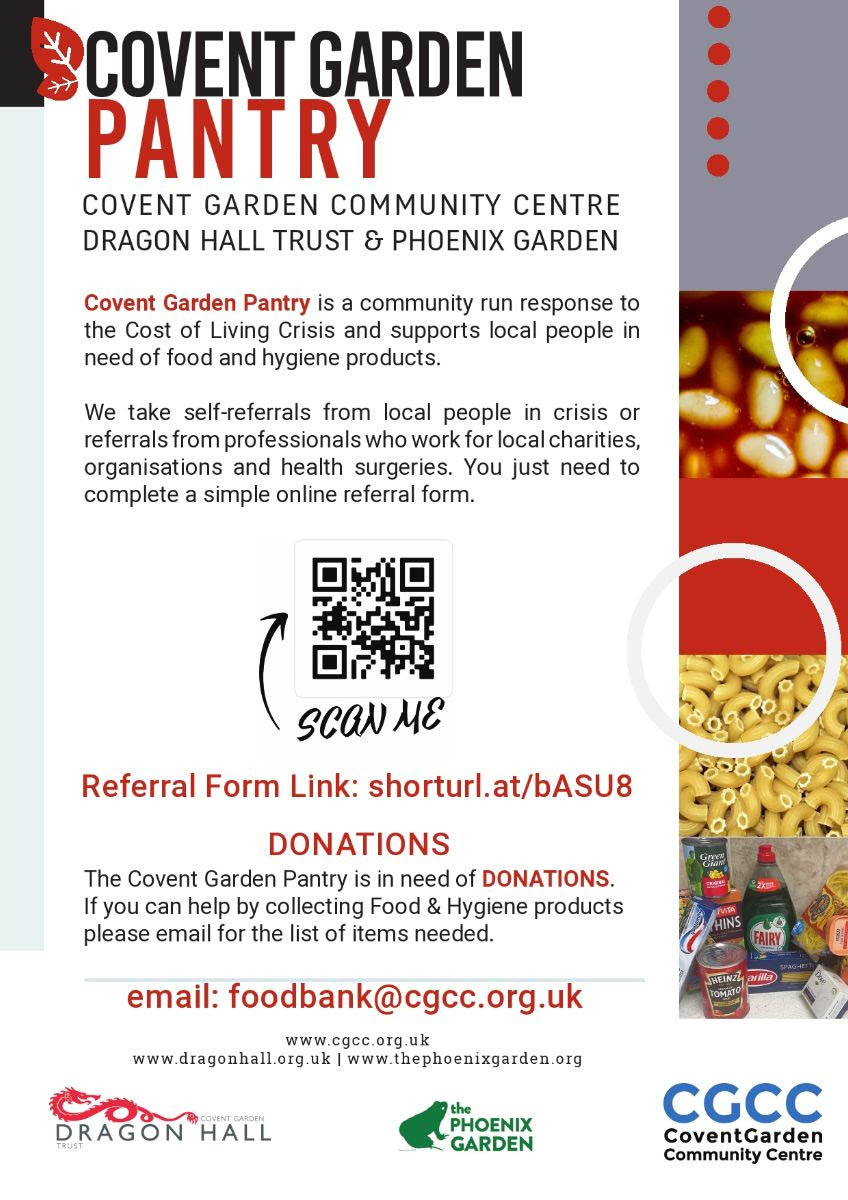 COMMUNITY ZOOMS FROM ROYAL COLLECTION TRUST
Community Zoom talks run as part of the Inclusion Programme, which aims to make the Official Residences of The King and Royal Collection as accessible as possible to visitors with disabilities, and those who wouldn't normally visit. They work with Community partners who support under-represented, disadvantaged and disabled people.
Wednesday 1 February
Introducing the Royal Collection – A glimpse of collecting tastes of past kings and queens.
Join Zoom Meeting – camera on or off:
Email me for the code.

Wellness Wonder Walks – Barham Park
Free fun walks in Barham Park to improve health and wellbeing.
Come along for a series of 8 weekly walking adventures, which will combine storytelling, poetry, creative arts and dance with meditation and mindfulness activities to engage your senses and calm the mind. Our gentle walks will help improve your wellbeing, reduce stress and achieve a more relaxed and peaceful state of mind.
For more information, click here

Regular Activities
Monday
09:00 Line Dancing (Zoom; £1 per class)
11:00 Tai Chi (Full)
11:00 – 13:00 Badminton (Free – but booking essential)
Tuesday
10:00 – 12:00 Jewellery Class (Full)
14:00 – 16:00 Aromatherapy (1 space available)
Wednesday
10:00 – 11:00 Yoga (£5.00)
11:15 – 12:15 Pilates (£5.00)
14:00 – 16:00 Digital Video Editing with LFS (Full)
Thursday
10:00 – 12:00 Drop In Digital Workshop by Camden
12:00 – 13:00 Flamenco (£5.00)
13:00 – 15:00 Badminton (Free – booking essential)
13:00 – 15:00 Digital Photo Class
Friday
10:00 – 12:00 1-1 digital support (appointment only)
12:00 – 14:00 Lunch Club (pre-booking essential)
---
To reserve a space / tickets or for more details please email: activities@dragonhall.org.uk
For any other queries email me directly or leave a message on Whatsapp.
My Mobile number is 07759 646507

February 2023
Wednesday 8th
2 Temple Tour and exhibition – 16:30 (Full)
Saturday 11th
Tea Dance – 13:00 (ONLY FOUR SPACES LEFT)
Monday 20th
Bridge taster session (Full)
Tuesday 21st
Mindful tour at the Queens Gallery – 10:00 (Full)
Wednesday 22nd
Free entry to Kew Gardens – 12 noon (Full)
Monday 27th
Tudor Allen Talk – 13:00
"Kilburn – an Illustrated History"
---
March 2023
Wednesday 1st
Film Club at the Garden Cinema "Brazil"- 15:00
Cost: £2:00 (Four Spaces)
Monday 20th
Pub Quiz with Viola – 14:00
Monday 27th
Bridge with Richard – 14:00
---
To reserve a space / tickets or for more details please email: activities@dragonhall.org.uk
For any other queries email me directly or leave a message on Whatsapp.
My Mobile number is 07759 646507

And Finally…
If you need to contact me, please contact me only on this mobile number 07759 646507.
Please do not visit me at Dragon Hall. I work at different venues throughout the week and I might not be there.
It is essential that all events/workshops or classes are booked in advance. If you would like to attend an event, please ALWAYS contact me beforehand.
Please note that all payments for classes are paid online via our website. If you have any difficulty with this, I am happy to assist. But again, this must be done beforehand and booked with me.
---
---
Thank you for your support and cooperation.
Can You Help Dragon Hall Trust?
Your donation will support vulnerable members of our communities.
Christmas Lunch – December 2022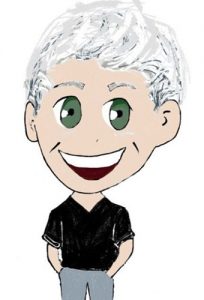 Contact John at john@dragonhall.org.uk or 07759 646507 in case of an emergency. 
Be safe – and remember to laugh at the little things!