Monday 3rd August 2020 – Day One Hundred & Twenty Five
Happy Monday and wow it's August!?!
Yes, that's right, August marks the fifth month of the Twilight Zone life (cue the theme music). How have you all been coping? What have you been filling your days with?
My mom just sent this article over to me about getting through to the other side of this. I thought it was insightful, so figured I would share it. Here is an excerpt:
This is a scary time. The pandemic is testing all of us – as individuals, families, and communities and countries. And we are not always passing the test.
Yet we will get through this. There will be another side. Even after the worst events in human history, there is always eventually another side.
The question is: how do we get there?
---
I also went to the Honolulu Zoo with my family on Saturday and got a few snaps. Behind to the left are my sister (her name is Hawaii), my sister-in-law (her name is Candace), and my nephew in the stroller (little Apollo). The pink flower is a Bromelia plant. It was so pretty, I just had to share!
Lastly, thank you for sharing your artworks with me. You are a talented lot! I hope to see some of your artworks in person someday soon!
My email is amber@dragonhall.org.uk
---
FOOD / SHOPPING
Thank you to everyone who has forwarded their wonderful support and comments to me regarding the Food Bank Project organised by Covent Garden Community Centre / 7 Dials Club. It is really gratifying to hear that so many people are benefiting from the service:
Foodbank – We are flexible with regards to who we can help. If you fit the following criteria, please register.
Self Isolation due to symptoms
Isolation due to vulnerable or shielded status
Income reduction because of lockdown & crisis measures
Income reduction while waiting for benefits to arrive
Homeless
---
Just a reminder. If you (or know of anyone) who cannot go out because they are vulnerable, self isolating or for any other reason and need help with food etc.
Assistance can be found on the government web page. The form is rather long, but is fairly straightforward. If you (or know of anyone who needs support) please let us know.
---
What can I share with you today?
---
FOOD
From me: SPAGHETTI AGLIO E OLIO
Spaghetti Aglio E Olio is simply translated to spaghetti with garlic and oil. It's the simplest pasta you can make.
And though it is super simple pasta, it can be very hard to perfect. But the technique used to make this is the bases for many classic Italian pasta recipes and it teaches you how to make a pasta sauce with pasta water.
I have been wanting to try this recipe for a long time. I think I will make it in the next couple of days. Let me know if you guys try it out! Annnnd, do you have a recipe you'd like to share? Send it over!
Here is the recipe and video.
MEDITATION ON ZOOM

Yoga and Meditation with Marcos:
Why not join Marcos for meditation on Tuesdays 10:30
This is a session where you relax your body and your mind and at the end, you'll feel easier /looser in your physical body and your mind sharper.
On Thursdays at 10:30 you also have a chance to do some chair yoga.
You take your own pace to do some gentle simple movement following your breath.
These are both short sessions and they don't last much more than 30min each. Do come and have a go; it might be something that you can easily enjoy and it make it a part of your weekly routine.
ART & CULTURE
From Chris B:
Meet the future stars of art, design, fashion and more Decolonising the arts.


Reshaping the world in the wake of the coronavirus. The climate emergency. Keeping pace with societal and technological change. These are just some of the critically important issues that will be tackled ​in UAL's Graduate Showcase events ​programme this year. Leading creatives and students will debate how to approach them in a series of virtual events from July 28 to August 7.
Uniting six world-leading colleges, University of the Arts London is considered one of the best schools on the planet for art and design. As such, UAL had to come up with an alternative plan to ensure its highly anticipated graduate show went ahead. The solution? Partnering with IBM to create a digital platform that will host the final works of thousands of talented students across art, design, fashion, communication, media and
performing arts.
Alongside the Graduate Showcase, a programme of more than 60 events will offer you the chance to interact with students and leading experts as they discuss how these pivotal challenges shaped their work. There'll be screenings, performances and discussions to get involved in over the two-week period. One thing is certain: this is one showcase you won't want to miss!
---
From Anna:
I'd like to recommend two outdoor photography exhibitions – both at King's Cross
TIME ON OUR HANDS EXHIBITION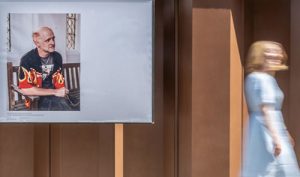 From Thursday 2nd July 2020 – Friday 21st August 2020
The project was initially a book, created by London-based producer/director Jackson Payne and photographer Robert Foster. Compiled in just two weeks in the midst of the pandemic, they collaborated with 40 UK artists and photographers, asking them to dig into their archives to find previously unseen works that relate, in some way, to current events.
The results are bold artworks and photographs celebrating everyday life. You can find the art on display in the light boxes on Lower Stable Street in Coal Drops Yard.
---
GAMES WE PLAY: KING'S CROSS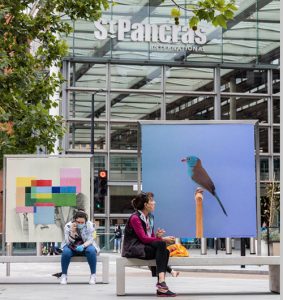 King's Cross launches what will be one of the largest free and permanent outdoor exhibition spaces for photography and 2d works in London. The Outdoor Art Project will feature 15 2-meter wide concrete benches, each holding a double-sided frame for two artworks, installed all across the iconic King's Cross estate, providing year-round, unhindered and free access to the highest calibre art and artists the city has to offer. The project kicks off on 27 July in a significant partnership with The Photographers' Gallery: 'Games We Play' features the vibrant, visually arresting works of Julie Cockburn, Luke Stephenson and Weronika Gęsicka, offering witty and original takes on traditional leisure time and Summer activities.
HEALTH
From Chris:
Altruism is vital for the human race and each of our lives is supported by countless acts of kindness from other people.
Yet in our world today, so much is directing us to focus on ourselves – and we forget that happiness comes by caring for others. We want to change that. So this August we're asking everyone to do a kind act daily. Let's spread a wave of kindness all around the world.  See the August calendar for helpful tips!
---
Theresa:
The Formula for Successful Ageing Recent scientific evidence is compelling that lifestyle habits have a significant impact on cognitive health and successful longevity;
but the many reports are sometimes confusing and contradictory. This session will explain and highlight relevant new discoveries and translate them into practical strategies for improving memory performance, optimising brain health, and living better longer.
POETRY CORNER
HAIKU TIME!
Haiku (俳句) is a type of short-form poetry originally from Japan. The form of the haiku is simple. It consists of three lines of alternating 5-7-5 syllables. The form is restrictive, but you can have a lot of fun within it, (at least, speaking for myself.)
Here is a haiku I wrote…just now:
Dishes, clothes everywhere!
So much work, where should I start?
Leave it, tomorrow.
This haiku might be a little too revealing about the state of my house…. lol. Do you enjoy writing haikus? Write one and share it with me 🙂
* Celia has graced me with her artistic talent and drawn a chibi character of me!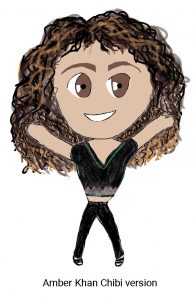 Quote for the day:
"Friendship … is born at the moment when one man says to another "What! You too? I thought that no one but myself . . ."
― C.S. Lewis, The Four Loves
From me:
That one friend…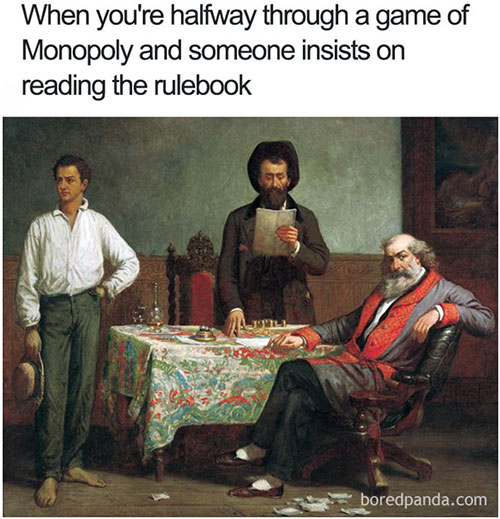 That's all for now – You can contact me at amber@dragonhall.org.uk
or you can reach John at 07759 646507 in case of an emergency.
Be safe – and remember to laugh at the little things!
– Amber